Plans to build a new 40-000-seater cricket stadium in Colombo have been abandoned after ex-players warned Sri Lanka's Prime Minister that the venue would be a waste of money.

The proposed arena, plans for which were unveiled by Sri Lanka Cricket (SLC) earlier this week, was estimated to cost $30 million.

"It was decided at a meeting with former top players today that instead of the proposed Homagama stadium it was better to spend money on building school cricket," read a statement from the office of Prime Minister Mahinda Rajapaksa.

Former Sri Lankan captains Mahela Jayawardene, Kumar Sangakkara and Sanath Jayasuriya were among those to meet with the Prime Minister and raise their concerns.

Eyebrows were raised when SLC said it intended to build a new stadium in Homagama in the district of Colombo, which already boasts the R Premadasa Stadium, currently the largest stadium in Sri Lanka.

The R Premadasa Stadium is in Khettarama and is where Sri Lanka's national teams usually train, but it lacks indoor nets and and swimming pool.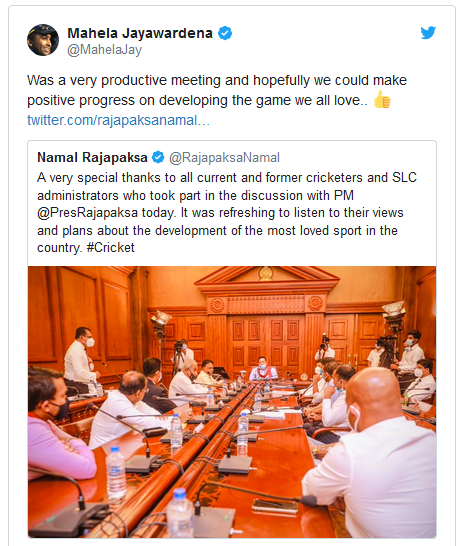 SLC had suggested that a new stadium was needed if it were to host future International Cricket Council events, but the nation did host both the men's and women's T20 World Cups in 2012 using three stadiums - one of which is named after the current Prime Minister.

It also emerged that a feasibility study on a new cricket venue in Jaffna - announced by SLC in 2017 - has still not been completed.

Government Minister Bandula Gunawardana, who represents the area where the new stadium would have been build, had announced the plans for the new stadium in Homagama, but when he did said the taxpayer would not be footing the bill for the new venue.

SLC needed a Government bailout in 2011 after costs associated with co-hosting the World Cup overran, so whether it was really in a strong enough position to fund a new stadium was doubtful.