Sri Lanka Netball team emerged champions at the inaugural South Asian under 16 Netball Championship concluded yesterday at the Army Sports Complex in Kathmandu, Nepal . In the final Sri Lankan team led by Nethmi Wijenayake defeated India 42/28 to take the South Asian crown.
In the final, the Lankan lasses played with more confidence from the first quarter. In the first quarter, both teams scored 8 points each but in the second and third quarters, the Sri Lankan team dominated with a clear lead of 16/4 and 11/8. However, Indians won the final quarter after a tough game 8/7 but that was not enough to get the championship in the inaugural tournament and Sri Lanka recorded a comprehensive victory by registering 42/28.
Sri Lanka, India, Pakistan, Bangladesh, Maldives and hosts Nepal took part in this tournament organised by the Nepal Netball Association.
Sri Lanka team coach Amalka Gunatilleka said this was a fine team effort by the Sri Lanka side.
"We had good confidence before this tournament to win the title. We were able to get good practice sessions and all players did their part very well thoughtout the tournament. Actually, this was a good exposure for the juniors and they are our future prospects," said coach Amalka Gunatilleka who is the head coach of Holy Family Convent Kurunegala which has produced top players in the school arena over the past couple of decades.
The champion team comprised three players from HFC Kurunegala, as well as two each from Musaeus College and Kalutara Balika as well as HFC Kalutara and one each from Girls High School Kandy and Presbyterian Girls School in Dehiwela.
Further, Hiruni Heshani was named as the Best Shooter, Nethmi Wijenayaka was named as the Best Player while Hiruni Jinali was named as the Best Player of the final.
The champion Sri Lanka under 16 team: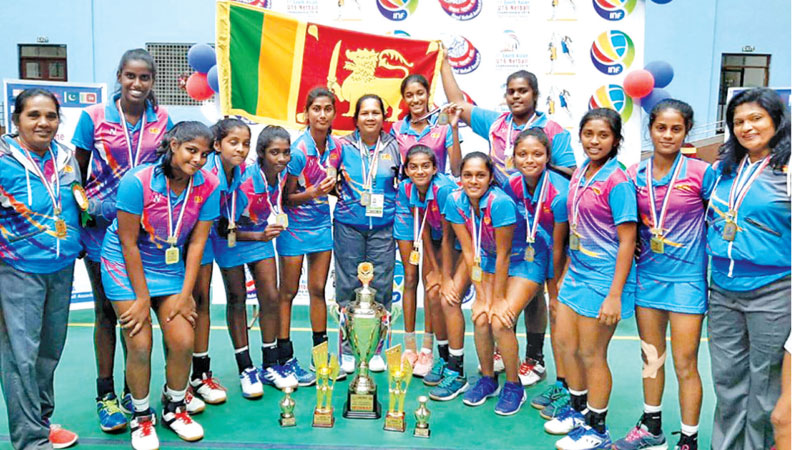 Nethmi Wijenayake - Captain (Musaeus College), Hiruni Heshani (Holy Family Convent, Kurunegala), Hiruni Jinali(Maliyadeva Balika Vidyalaya, Kurunegala), Maheesha Bandara (Girls High School, Kandy), Rishini Sewwandi (Holy Family Convent, Kurunegala), Randuli Rubasinghe (Musaeus College), Rashmi Anjalika (Presbyterian Girls' School, Dehiwala), Ramdhi Gamage (Holy Family Convent, Kalutara), Krishmi Dinethya (Holy Family Convent, Kalutara), Senuthi Dilakna (Kalutara Balika Vidyalaya), Dishari Adeesha (Kalutara Balika Vidyalaya), Natasha Dias (Holy Family Convent, Kurunegala), Amalka Gunatilleka (Coach).