Kim Clijsters, a former world No. 1, stunned the tennis world by announcing a comeback to the women's WTA Tour next year at the age of 36.
Clijsters' return was first announced by the WTA.

I don't really feel like I want to prove something," Clijsters told the WTA Insider Podcastin an exclusive interview on Thursday. "I think for me it's the challenge."

With a game built around superb all-court coverage, athleticism and power, Clijsters won three U.S. Open titles, one Australian Open championship and three season-ending WTA Finals. Clijsters, the daughter of the late Belgian soccer player Lei Clijsters, won 41 career titles, amassing over $24 million in prize money. She was inducted in the International Tennis Hall of Fame in 2017.

Clijsters last played a competitive tennis match at the 2012 U.S. Open, when she was 29 years old. She will make her second comeback to women's tennis as the mother of three children with her American husband, former basketball player Brian Lynch.

Her oldest daughter, Jada, was born in February 2008, during a 26-month break away from the Tour. In July 2009, Clijsters had a fairytale comeback, winning the U.S. Open that year in just her third tournament back to become the first mother to clinch a major since Australia's Evonne Goolagong at Wimbledon in 1980. Clijsters and Lynch welcomed a son, Jack, in 2013, followed by another son, Blake, in 2016.


Clijsters, who runs her own tennis academy in Belgium, worked as a tennis broadcaster and competed in Legends' events during the slams in the past seven years, was one of the most popular players both on and off the court during her time on the women's tour.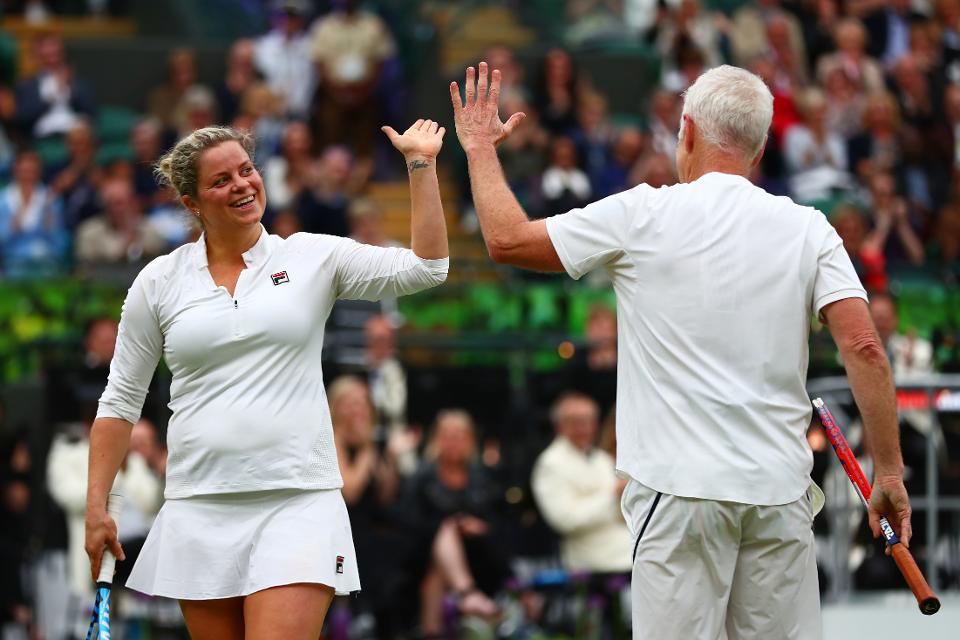 Kim Clijsters and John McEnroe in action during a test event for Wimbledon's No. 1 court roof in May. (Photo: Dan Istitene/Getty Images)Getty Images

"Kim Clijsters ranks among the greats of the game and her return to the Tour is exciting news for the WTA family and tennis fans around the world," Steve Simon, WTA chairman and chief executive officer, said in an emailed statement. "Driven by her love for the sport, this wonderful champion continues to inspire women and men in all walks of life – and she only adds to the compelling wealth of talent in women's tennis. I wish Kim all the best in this next chapter of her playing career."

In May, Clijsters took part in an exhibition event at Wimbledon to test its new roof over No. 1 Court. Afterwards, five-time Wimbledon winner Venus Williams told the crowd the Belgian "could be on Tour right now. The strokes are so clean and I am looking across and the net and I am like 'Wow, what an amazing stroke production'...It's unbelievable how she is moving and playing."