Concerns have been raised over the possible spread of the new coronavirus among hundreds of passengers who disembarked from a cruise ship in Cambodia on Friday, after one of them was confirmed to have the disease following a second test carried out in Malaysia.
Scores of passengers who left the MS Westerdam, which had been at sea for two weeks after leaving Hong Kong on 1 February, have travelled on to other destinations.
The director general of Malaysia's health ministry, Noor Hisham Abdullah, said he believed further precautions should have been taken when passengers disembarked.
"Only 20 passengers had their tests done. That was what we were told," he said. "The fact one case is positive, [means] all other passengers [have] exposure."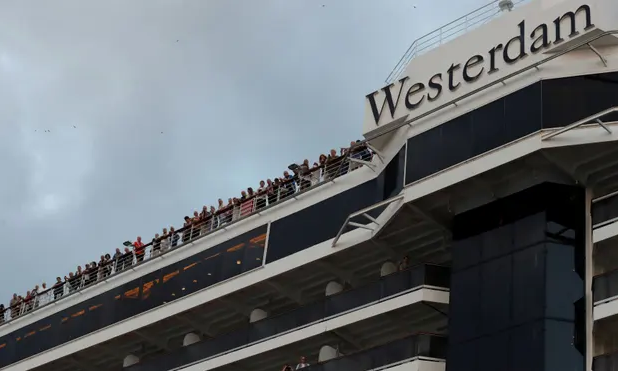 After the Westerdam's stop in Cambodia, 236 passengers and 747 crew remain onbboard. Photograph: Soe Zeya Tun/Reuters
Cambodia was praised by the head of the World Health Organization for receiving the ship, which had been turned away by five other countries despite there being no confirmed cases onboard at the time.
The confirmation that an 83-year-old American passenger has since tested positive for the disease after travelling on to Malaysia has prompted questions about whether enough preventive measures have been taken.
Cambodian authorities initially called for the test results to be reviewed by Malaysia, while the ship's operator, Holland America, described the tests as preliminary. On Sunday the Malaysian authorities confirmed the patient had been tested for a second time and that the results confirmed she had the virus.
Cambodia's government said its own tests on passengers from MS Westerdam had been done in collaboration with the WHO and the US Centers for Disease Control and Prevention.
The American woman flew to Malaysia with 144 other cruise ship passengers. Only she and her husband showed symptoms. Her husband has since tested negative.