The IGP has ordered an inquiry against the Bandarawela HQI for allowing the media to record the questioning of a young woman suspected of having abandoned her infant in a train lavatory.
Action against the chief inspector and the female officers present at the interrogation is to be based on a report expected within three days.
The HQI questioned the woman in the presence of three female officers, with the proceedings videoed with their knowledge and released to the media later.
Three months ago, the police chief instructed that investigations on women and children should ensure safeguarding their identities and interests.
Police intelligence launched a probe into the infant that was left abandoned in a train lavatory at Colombo Fort railway station on Friday (10).
The culprits were identified within half an hour and the woman was traced from Bandarawela on the following day.
Meanwhile, the media is coming under heavy criticism over the manner of its reporting of the incident.
A social media activist, Manohari Hewawasam took to facebook and shamed the media for destroying the future of two young people.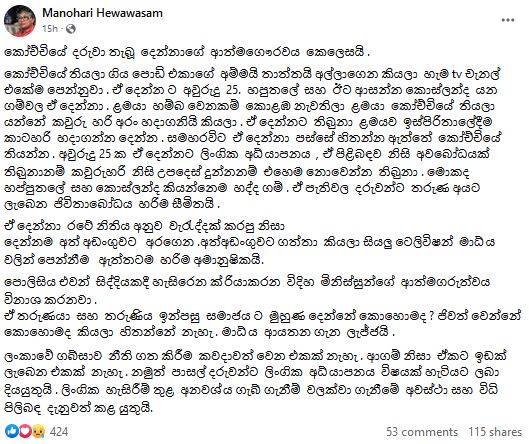 Another activist Wasantha Manthilaka blamed the HQI as the main culprit.