Boris Johnson - the former UK foreign minister and former mayor of London with a reputation for brashness, bombast, and bending the truth — has won the Conservative leadership contest, setting him up to be Britain's new prime minister.
Which means the onetime face of Brexit will soon have the responsibility of steering the United Kingdom through its messy divorce with the European Union.
Johnson cruised through the Conservative leadership contest that began last month, his victory over his opponent, Foreign Secretary Jeremy Hunt, never really in doubt. Johnson entered the race as the clear frontrunner and easily got the backing of Conservative members of Parliament and the approximately 160,000 party voters — the 0.25 percent of Brits who ultimately got to choose the country's next leader.
"We know the mantra of the campaign that has just gone by, in case you've forgotten it — you probably have. It is: deliver Brexit, unite the country, and defeat [Labour leader] Jeremy Corbyn," Johnson said during his victory speech on Tuesday. "And that is what we're going to do."
But winning might have been the easy part. Johnson is expected to takes over as the prime minister on July 24 with the latest Brexit deadline just about three months away, on October 31. And besides a change in leadership — Theresa May out, Johnson in — not much else has shifted. The UK is still divided over how, or whether, to break up with the EU, and May's original, unpopular deal is still the only one on offer from Brussels.
Johnson, a vocal proponent of Brexit, has said he will renegotiate May's Brexit deal. The problem is that the EU has said it will not renegotiate, and Johnson's plan to break the impasse primarily relies on ideas the EU has already rejected and the power of positive thinking.
Johnson has vowed that the UK will leave the European Union on October 31, though, with or without a deal. Time will tell whether that's mostly campaign bluster or a real strategy, but Johnson has been much more willing to publicly stake out that position.
This hardline stance is at least part of the reason Johnson succeeded in his bid to become prime minister. The tortured EU-UK divorce has polarized the discourse around Brexit, hardening support among Brexit supporters to just break free from the EU at any cost. Parliament, however, remains largely opposed to leaving without a deal, and their objections could make governing as difficult — or more so — for Johnson as it was for May.
And one of the longstanding critiques of Johnson, the former mayor of London, is that he has a habit of making politically expedient promises. He's said Britain's political parties face "extinction" if they fail to deliver Brexit. How serious he is about delivering Brexit on October 31 will profoundly shape the future of Britain, and the entire European continent.
Who is Boris Johnson?
Johnson is a 55-year-old Conservative member of Parliament, former foreign minister, and former mayor of London. He's a polarizing figure within British politics. His supporters embrace his bluntness and wit, controversial statements and all. His critics see him as an calculated self-aggrandizer with malleable political convictions.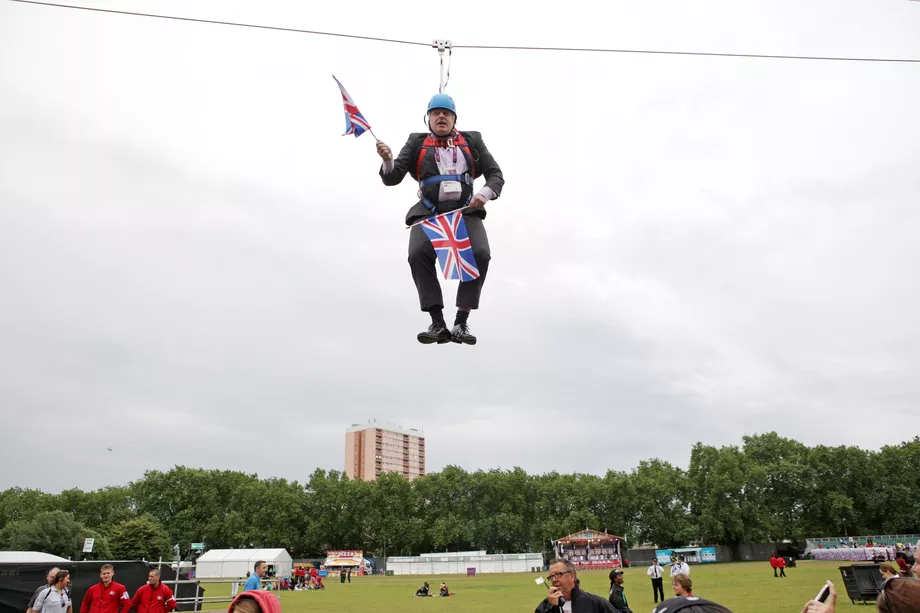 Then-London Mayor Boris Johnson got stuck on a zipline during BT London Live in Victoria Park on August 1, 2012. Getty Images
Johnson is among the most popular Conservative politicians in a party that isn't too popular right now. He's seen as gaffe-prone, from harmless flubs to more controversial racist, sexist, Islamophobic comments.
He was also one of the main figures who advocated for the UK to leave the EU during the 2016 referendum. Johnson remains an ardent Brexiteer, and he's been a loud (if inconsistent) critic of May's Brexit deal.
Johnson began his career as a journalist, the highlights of which include getting fired from the Times of London in 1988 for fabricating a quote and working as the Brussels correspondent, where his skeptical coverage of the EU helped fuel some of the EU backlash that would arrive in force during that 2016 referendum.
Johnson became a Conservative member of Parliament in 2001. In 2008, he mounted a bid to become the mayor of London, won in a stunning upset, and ultimately served two terms where he showed his love of publicity stunts and branding exercises.