We are a quarter of the way through the NBA season, which means that – aside from Jimmy Butler's escape from Minnesota – absolutely nothing of consequence has happened yet. We know this. We know that the NBA season doesn't really start until Christmas, and Thanksgiving has only just gone. And yet, despite the fact that we know we'll feel stupid about it later, we get carried away.
Remember last year, at the start of November, when the Orlando Magic were good? Aaron Gordon was knocking down threes, all that young talent was finally gelling, and they were going to make some noise in a weak East. And then two weeks later it turned out they were bad.
This fall, thanks to his move to the Los Angeles Lakers, LeBron James entered the season facing lower expectations than he has in a decade.
For once, the NBA hive mind was preaching caution with his team – finding a groove with this young/old, fragile/insane Lakers supporting cast would take time. Of course it would, we all agreed quite reasonably. And then the Lakers got off to a sluggish start and we all lost our minds. Even Magic Johnson got in on the act. We shouldn't misread Magic's tirade at head coach Luke Walton as a sign that there's anything actually wrong; superstar ex-athletes are just as prone – sometimes more prone – to overreact as the rest of us. And that's all it was.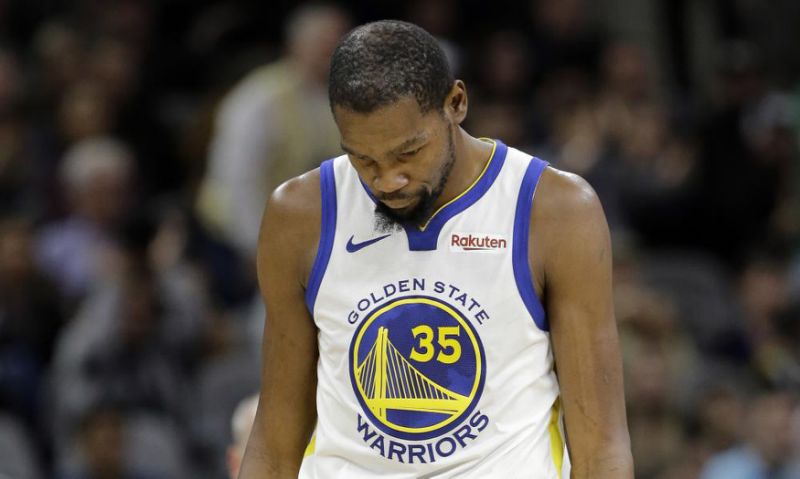 Kevin Durant's Warriors have lost four in a row, but the funk is unlikely to last. Photograph: Eric Gay/AP
On 5 November, the Denver Nuggets were 9-1, and had somehow transformed one of the NBA's worst defenses into one of its best, a huge leap that the healthy return of Paul Millsap, bless him, did not entirely explain. We restrained ourselves from wondering if they could beat Golden State – we're not delusional – but what about second in the West? A home playoff series? Anything (other than beating Golden State) is possible. Then the Nuggets lost six out of seven and currently sit just half a game above the Lakers, who are now firmly back over .500 and in a playoff place thanks to coach of the year candidate … Luke Walton.
The Houston Rockets, meanwhile, have pulled a reverse Nuggets, erasing both their bad start and all traces of Carmelo Anthony from their franchise, winning five straight, including a blowout win over the Steph-less, Draymond-less Golden State Warriors, who, by the way, are reeling and on the brink of implosion after a somewhat heated argument between two of their five superstars, both of whom get in arguments a lot and always seem fine a week later.
In fact, we need to declare a moratorium on all "The Warriors are in trouble" hot takes until at least mid-April, and only then if Draymond Green bites off Kevin Durant's lower right leg and pummels Boogie Cousins with it. (And even then, Warriors will win the NBA finals in five.) As ESPN's Zach Lowe put it last week, with magical simplicity: "The Golden State Warriors are going to win the NBA title this year. They are so much better than everyone else." Yes. What he said.
The real question is how bad things would need to get between Dray and KD before it actually impacted either of them on the court. Both are such merciless and title-driven competitors that their families could be trapped in a blood feud and they'd still ball out with each other between the lines. It's almost cute that we think a brief shouting match in mid-November will derail the Warriors in the finals next June. It's cute we think we'll even remember it happened.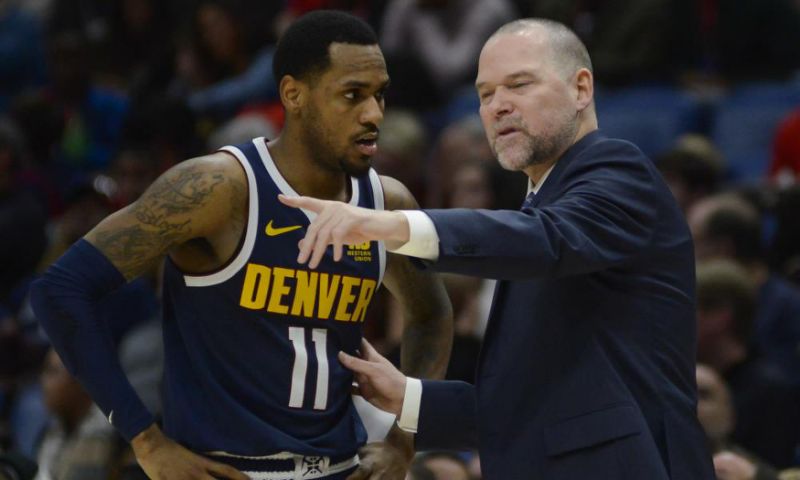 Denver Nuggets, team of the future? Not just yet. Photograph: Veronica Dominach/AP
That's pretty much the only thing this chunk of the NBA season is good for: lining up a bunch of things for us to be wrong about, despite all our better judgment. We've come back to Earth on the Nuggets, and we've stopped predicting the apocalypse for the Rockets and the Lakers and especially the Warriors. But we still need to settle down about so many things.
The Sacramento Kings are not this year's Orlando Magic – they're more talented, they run older teams until they collapse, and they have a budding star point guard in De'Aaron Fox – but sorry, we need to calm ourselves: they are not going to win 40-plus games, nor are they going to compete for a playoff spot in the West.
We need to settle down about Derrick Rose's return to form, because he is not going to continue shooting 47% from three-point range (he's a 30% shooter for his career) and also because his comeback narrative has been enabled by people who want to ignore the part about his dubious exoneration from a gang-rape charge. With any luck, he'll start missing soon. But it won't take luck. It'll just take a few more weeks.
We need to settle down about skyrocketing scoring across the league – partly because it's already starting to come back down, and also because it's fun.
One of the biggest reasons we need to settle down about many of these teams and their playoff prospects is that many of them will look very different by the playoffs. It's already begun. The Lakers added Tyson Chandler. The Rockets ushered Anthony out of the door (and, more significantly, coaxed defensive coaching guru Jeff Bzdelik out of retirement). The Sixers saw themselves slipping behind not just Boston but also Toronto and Milwaukee, so they traded for Butler and probably have at least one more deal to make.
The shuffling will accelerate in mid-December, which is when league rules permit teams to begin dealing free agents whom they signed over the summer. Holes that we think are fatal now will be plugged by Valentine's Day. Kyle Korver will go to a good team in need of a three-point shooter. The Celtics could flip plucky young point-guard Terry Rozier, whom they can't afford to keep – not if they also intend to pay Kyrie Irving – for the bouncy big man they lack. The Wizards look ready to rip their entire team apart. And the Spurs, hovering just outside the playoff bubble, may decide to surrender and send LaMarcus Aldridge – an All-NBA power forward and unrestricted free agent this summer – to a title contender.
Any of them would have a bigger impact on this NBA season than some silly squabble between Green and Durant. And none of them would change a thing about how it ends.