The Assembly election results announced on December 11 in the three states of Rajasthan, Madhya Pradesh and Chhattisgarh, which have a combined population of 168 million people and elect 65 members of the 545-strong Lok Sabha, caused what the Economist magazine headlined as a "saffron stumble", and predicted that "India's political current is rushing towards a turbulent spring". It certainly put wind in the Congress' sails, altering the public perception that under Rahul Gandhi's presidency the Congress was a moribund enterprise.
The world is currently distracted by the growing trade and technology standoff between the United States and China, turmoil on the streets of Paris, the US Congress' rising irritation with the Saudis, British Prime Minister Theresa May's plummeting fortunes, and so on, to take note of the implications of the BJP's stumble before the 2019 parliamentary elections. India's immediate neighbourhood, on the other hand, can hardly ignore it. China may not fully understand the dynamics of domestic Indian politics, but it can — and will — calculate the implications.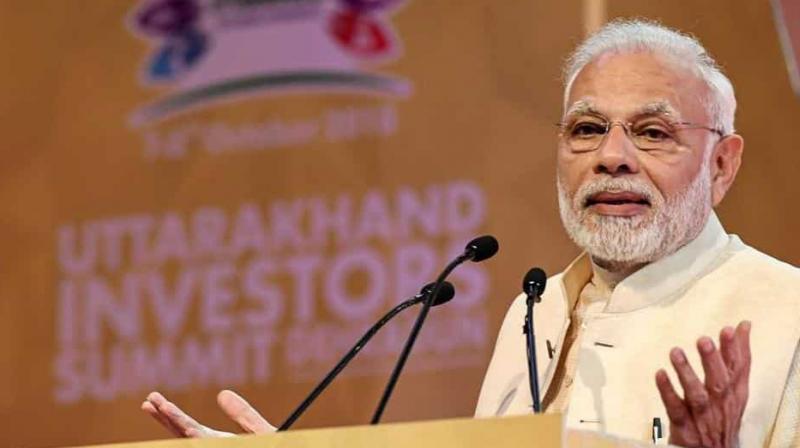 Nepal 1Prime Minister Narendra Modi had during his last Nepal visit flagged off the bus service between Janakpur and Ayodhya, the town associated with Lord Ram. (Photo: PTI)
Let us take a look at some recent developments in the Saarc region and beyond, against this background. Nepal continues its rebalancing between India and China, perhaps inevitable under a Communist-dominated government. It invited saffron icon Yogi Adityanath, chief minister of Uttar Pradesh and head of the Gorakhnath Math (to which the erstwhile ruling family of Nepal paid obeisance), to a celebration of the marriage of Lord Ram and Sita at Janakpur, known as Sita's birthplace. Prime Minister Narendra Modi had during his last Nepal visit flagged off the bus service between Janakpur and Ayodhya, the town associated with Lord Ram. Simultaneously, Nepal announced that the Indian rupee would no longer be valid tender in Nepal. Besides symbolising monetary independence, Nepal perhaps reacted to India's reluctance to take back a huge cache of old, demonetised Indian notes as per old arrangements. It would affect Indian tourists, but the Indian authorities may not be unhappy about plugging the possible illegal flow of Indian currency. But it snaps another historical link between the two nations that share a long and open border, besides faith and culture.
Bhutan is just settling down under a new government, but renewed pressure is inevitable from China for a diplomatic presence there and for Bhutan to rebalance relations between India and China. A weakened government in New Delhi, distracted by elections and with a question mark over the BJP's return to power can weaken Indian influence in Thimphu. It would anyway be unrealistic for India to expect to keep Bhutan permanently walled off from China.
In Bangladesh, the parliamentary elections are due on December 30. India counts on Sheikh Hasina Wajed of the ruling Awami League to return victorious. But the BJP losing grip in the Hindi belt, which catapulted it into power in 2014, is looking to the eastern states and West Bengal for gaining new electoral space. Its take-no-prisoners approach to fighting the ruling Trinamul Congress in West Bengal depends on stoking the anti-Bangladeshi sentiments. This is a replication of its Assam gambit to capture power. The Supreme Court extending the December 15 deadline to file claims and objections for the inclusion of names in the National Register of Citizens (NRC) indicates the churn caused by the exclusion of over four million persons from the draft NRC. So far, only a million odd have sought review.
Meanwhile, senior BJP leaders have stoked the issue at the hustings for possible use in West Bengal, which has had its Muslim population grow out of line with normal demographic patterns. The BJP's slogan has been to deport all "intruders", meaning Bangladeshis. However, Bangladesh has insisted that it has no citizens in India living illegally. This issue and that of the Rohingyas, who have entered India largely via Bangladesh, will rile India-Bangladesh relations after the December 30 elections as Indian inhibitions to not harm Sheikh Hasina politically would evaporate in the face of the BJP's need to win.
In India's maritime neighbourhood, the gain in the peaceful transfer of power in the Maldives to an India-friendly President has been offset by the turbulence in Sri Lanka, relieved somewhat by resignation of usurper Prime Minister Mahinda Rajapaksa. But matters will not rest as Mr Rajapaksa may yet return via elections.
Meanwhile, the tension between Prime Minister Ranil Wickremesinghe and President Maithripala Sirisena is bound to cause governance paralysis. India must remain vigilant to stymie forces that favour China over India. In the Maldives, India has to ensure that the rollback of the Chinese intrusion is done with finesse that neither causes domestic difficulties for the new President, as happened over an island in the Seychelles, nor crosses Chinese red lines to avoid a faceoff. All decisions will have to appear taken by Maldivians and in their interest. President Ibrahim Mohamed Solih sent out a clear indication of India's renewed importance as he began a three-day visit to New Delhi on Sunday, his first trip overseas since taking over.
Pakistan under its charismatic new leader Imran Khan is presenting a different challenge as he is difficult to demonise for domestic political gain in India. His shrewd move by opening the Kartarpur Corridor has already opened political fissures within the Punjab Congress, as indeed between it and the Opposition. The mad scramble to claim credit is balanced by equally loud warnings from Punjab chief minister Capt. Amarinder Singh, which may be exaggerated but are not unrealistic. The corridor, which would not get commissioned till after India's Lok Sabha elections, can be a bridge for understanding or tension. But it is not the solution to the fundamentally conflicted India-Pakistan ties. Imran Khan has realistically accepted that Islamabad will have to wait till after the Indian elections to try for a resumption of the dialogue.
There is little that Mr Modi can do to earn diplomatic kudos in his time remaining as Prime Minister in his current term. He must ensure that in the panic to win he does not let intemperate and opportunistic BJP leaders burn bridges with neighbours. It takes years to earn the trust of smaller and paranoid Saarc members. It would take simply days or hours to demolish the gains.
*The writer is a former secretary in the external affairs ministry of India. He tweets at @ambkcsingh