A constitutional crisis has entered its fourth day today, since Sri Lanka's President Maithripala Sirisena appointed his erstwhile rival Mahinda Rajapaksa as Prime Minister, in a surprise move that shocked the island nation. The move came at dinnertime last Friday evening no sooner Sri Lankans had reached home after the workweek. It was preceded by minutes with the announcement that the President's United People's Freedom Alliance (UPFA) had left the National Government that had been formed with deposed Prime Minister Ranil Wickremesinghe's United National Party (UNP). Sirisena previously served as a minister under Rajapaksa, a former two-term president, before defecting to successfully challenge him in January 2018, and deprive Rajapaksa of a third term.

Rajapaksa's appointment as Prime Minister has sparked a constitutional crisis, with Wickremesinghe refusing to relinquish office on the grounds that the appointment violated the constitution. Wickremesinghe, whose security was withdrawn on Monday, remains holed up in his official residence. Rajapaksa supporters coercively took over control of state media institutions within minutes of his appointment by Sirisena. Cabinet appointments followed on Monday.

"What is unfolding in (Sri Lanka) is a coup. Coercively taking over institutions is the structure of a coup," tweeted Dr. Nishan De Mel, Executive Director of Colombo-based think-tank Verité Research.

Constitutional lawyers argue that a prior provision of the constitution that gave the president power over appointment and dismissal of the Prime Minister was amended in 2015, such that the President no longer has the power of dismissal. Thus, the provision dealing with appointment is not triggered, given that the office of Prime Minister has not been vacated. President Sirisena co-championed the 19th Amendment to the Constitution, which is the amendment in question. "The fact that the event was planned in complete secrecy, with no consultation of Parliament or giving the serving Prime Minister and Cabinet the courtesy of even a short prior intimation before the course of action was made public, that it was suddenly carried out on a Friday evening, and that it has taken the country by total surprise, points to some extremely questionable motives," opined Dr. Asanga Welikala of the University of Edinburgh.

Meanwhile, Dr. Jayampathy Wickremeratne and Suren Fernando, who were involved in the drafting of the 19th Amendment, also maintain that the appointment is unconstitutional. They argue that Parliament must first defeat a Statement of Government Policy, defeat the budget, or pass a vote of no confidence in the Prime Minister if he is to be dismissed. The only other way is for the Prime Minister to resign. None of these have happened.

According to Sri Lanka's constitution, "the President may appoint as Prime Minister, the member who, "in the President's opinion, is most likely to command the confidence of Parliament." However, soon after the appointment, President Sirisena suspended Parliament till November 16, in a move political analysts say, is calculated to prevent a floor test of parliamentary confidence, and to buy time to gather the required 113 parliamentary votes. There are wide concerns in Colombo that financial incentives could be used to coerce lawmakers to defect. Political commentators point out that if in fact, Wickremesinghe no longer enjoyed the confidence of Parliament, his government would not have been able to pass laws as they did, including hours before the President appointed Rajapaksa as Prime Minister.

On Monday, the first working day since the constitutional crisis unfolded, the Speaker of Parliament Karu Jayasuriya submitted a letter signed by 126 Members of Parliament to President Sirisena, calling for Parliament to be reconvened. President Sirisena has not yet responded. Yesterday, large crowds gathered in front of the Prime Minister's official residence, demanding that Parliament be reconvened.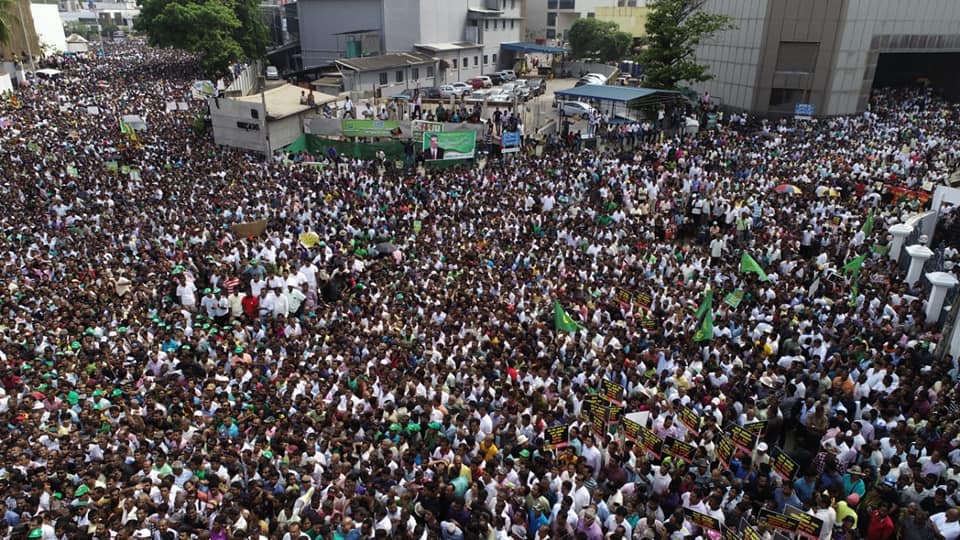 Thousands of protesters rallied behind ousted Prime Minister Ranil Wickremesinghe in front of his official residence in Colombo on Tuesday.
The international community at large has yet to recognize Mahinda Rajapaksa as Prime Minister. On Tuesday, British Foreign Secretary Jeremy Hunt told the House of Commons that he would raise the point that President Sirisena's actions contravene the 19th Amendment and that they're "concerned about the safety of Prime Minister Wickremesinghe."
The same day, Chairman of the International Democratic Union and former Canadian Prime Minister Stephen Harper issued a strong statement, that said, "we are witnessing the breakdown of democracy in Sri Lanka."