China has for long been accused of advancing its aggressive ambitions in the Indian Ocean Region (IOR) and Sri Lanka has been one of Beijing's main targets to assertively lease and reclaim land.
Beijing has also targeted other countries such as Seychelles, Maldives, Bangladesh and Myanmar with attractive soft loans and infrastructure development loans. But these loans become enormous within no time, consuming countries which are unable to pay them back in time.
Beijing then resorts to coercive diplomacy to gain footholds by way of leases — initially for 30 years, then 40 years, and then 99 years. The whole process takes little time, generally less than five years.
This economic strangulation or "debt diplomacy", as some strategic experts call it, has been adopted by China in the South China Sea, IOR and African nations, which can be very easily subjugated due to their low economic resources.
The Print looks at Sri Lanka through satellite cameras to understand how it has increasingly come under China's stranglehold.
Colombo Port
The expansion of Colombo Port began in early 2009. Nine years on, the latest satellite images indicate that the southern pier of the port is complete and fully functional.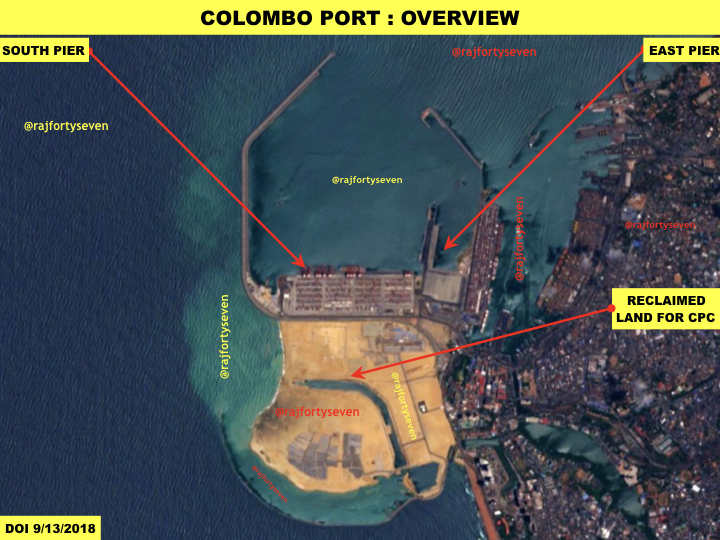 Phase 1 of the eastern pier is complete and has started operations, while Phase 2 has begun recently.
The western pier is yet to begin operations, although some activity was observed last month.
Reclamation
The Colombo Port City (CPC) reclamation project south of the extended port's hollow square is proceeding slowly but steadily. The shape of the reclaimed land has become clear.
Satellite images from September 2018 show that reclamation here is likely to be almost 418 hectares. That is one-eighth of the total land of Colombo city.
The images also reveal that Asia's largest hopper dredger, JunYang #1, has been employed for faster reclamation at the CPC.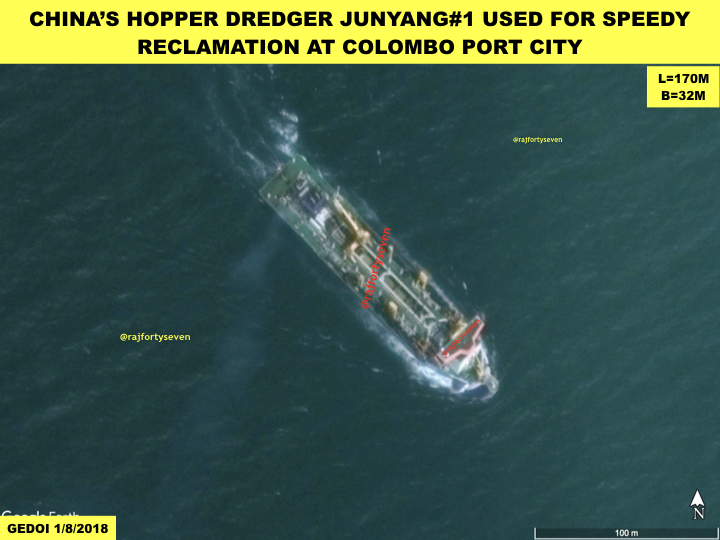 China's Harbour Construction Company (CHCC) plans to make this CPC a commercial and entertainment hub of South Asia, just like Hong Kong.
The reclaimed land and structures built on it will be sold back to Sri Lanka at an exorbitant price.
Some members of Sri Lanka's political opposition feel the reclaimed land will be a preserve of the rich and wealthy, and will benefit the Chinese rather than Sri Lankans. CPC developers and workers are Chinese, and hence do not increase employment or provide any other economic gains to Sri Lanka.
Navy presence
The Print highlighted the survey activities of the Chinese People's Liberation Army Navy (PLAN) in February this year. The survey activities were carried out in the Arabian Sea around the same time when Pakistan's Ababeel missile was being tested from the Winder Launch Pad.
PLAN ships have been visiting Colombo Port under the garb of friendly visits. The Chinese ships sold to Pakistan have also been observed there very frequently.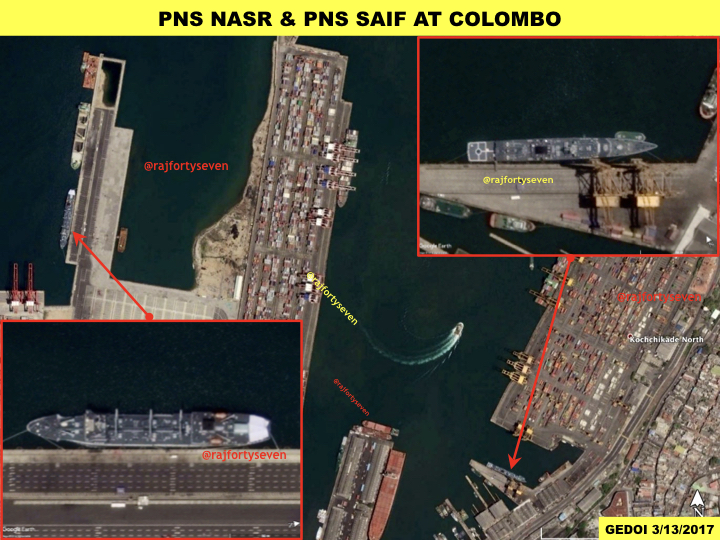 Last month also saw a very interesting ship named 'Qian Weichang' visiting Colombo. It is a 49,000-ton hydrographic survey ship (Type 636A). The ship is known to be equipped with the most modern underwater scanning and data collection systems.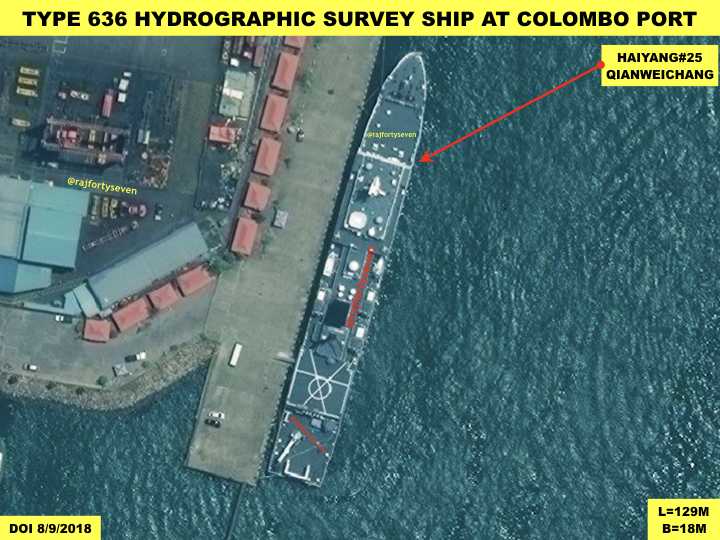 The ship, also called 'Haiyang No.25', with a crew of 159 and the most modern systems, can fathom the IOR inch by inch, assisting PLAN in submarine warfare as also anti-submarine warfare.
Hambantota PortIndia was offered the development of Hambantota as a port by President Mahinda Rajapaksa's administration, but thought it to be an unviable proposal. It was probably the correct decision economically, but it has cost India dearly in regional geo-politics.
China soon entered the scene and got hold of the project, creating a small port which has been near inactive, just like the Gwadar port in Pakistan.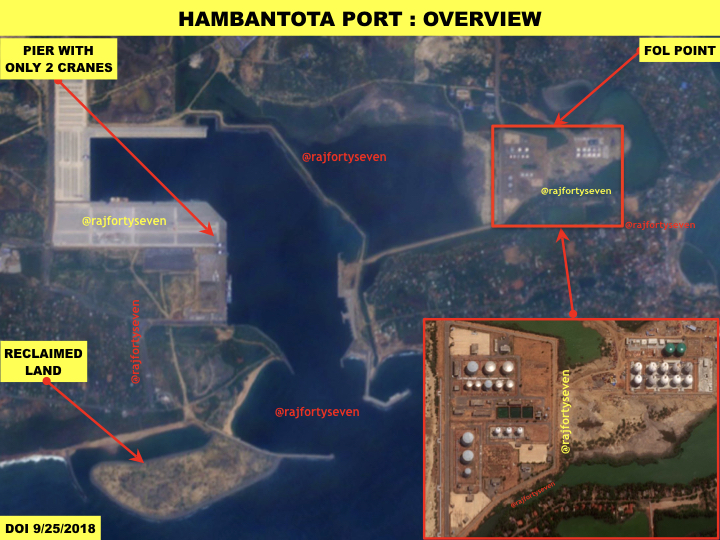 In December last year, Sri Lanka was forced into signing a 99-year lease agreement for Hambantota, and hand it over to the Chinese.
Recent satellite images show increase in fuel, oil and lubricants (FOL) tanks over the reclaimed portion of the lake.
The Chinese PLAN might also develop this port as a future base. Construction work, which is likely to begin by end of this year, will establish this possibility sooner than later.

(The Print)