(AP) - Asian leaders at the World Economic Forum (WEF) in Hanoi – which concluded last week – said the oscillating geopolitical dynamics in the region were manifestations of power plays in the South China Sea conflict and this could undermine an existing rules-based international order.
Cambodia's Prime Minister Hun Sen made references to these kinds of power plays when he said: "Leave the Mekong region's five member countries, also known as the Mekong riparian nations, to resolve their own issues without any form of political interference or intervention.
"We are a unique region with diverse political systems, democratic practices and principles which were unique in nature to each country and thus could not be used across the board.
"This uniqueness in diversity meant that the region was susceptible to all forms of foreign intervention and each country must be left to decide what is good for them, their people, their political system and their security," Mr Hun Sen said when he addressed the forum on the Mekong Region.
As a collective voice, the Asian leaders at the forum agreed that with the rapidly oscillating geopolitical dynamics, underscored by escalating trade tensions between major powers, there is a dire need for adherence to a "rules-based" order.The Asian leaders presented a collective voice to reject unilateral and protectionist moves.
Taro Kono, Minister of Foreign Affairs of Japan said: "I think we need to establish rule-based international order and any unilateral challenge to the status quo should be resisted by all.
The "collapse of multilateralism, stemming from the trade war between the United States and China", he reiterated, must follow the same principles and existing liberal international order.
Asean leaders and their counterparts from Japan, South Korea and Sri Lanka echoed concerns over rising unilateralism with regard to increased trade tensions and territorial concerns in the South China Sea. They raised critical questions about the geopolitical implications of attempts at global rebalancing.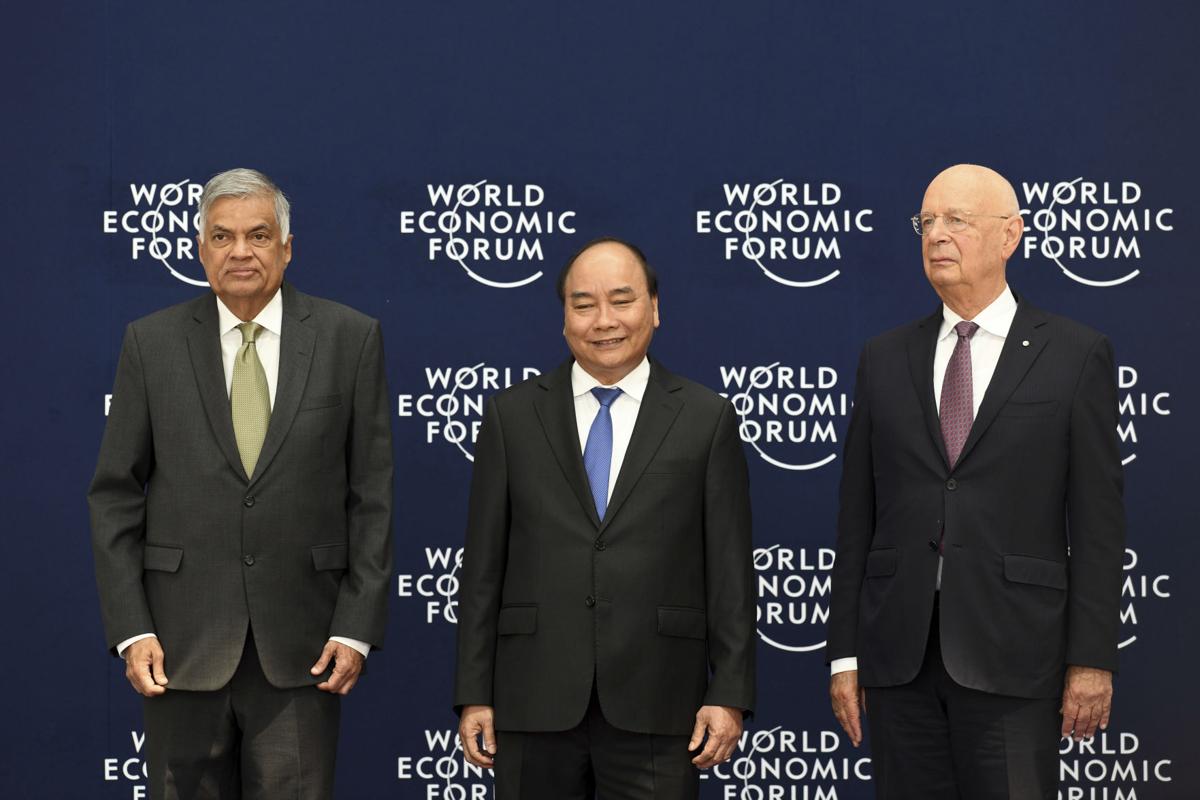 Sri Lankan Prime Minister Ranil Wickremesinghe, left, Vietnamese Prime Minister Nguyen Xuan Phuc, center and Klaus Schwab, founder and executive chairman of the World Economic Forum pose for a photo during the welcoming ceremony of the the World Economic Forum on ASEAN at the National Convention Centre in Hanoi on Sept. 12, 2018.(Ye Aung Thu/Pool Photo via AP)
"Looking at the geopolitics in Asia and friction between America and China, I am concerned about the rebalancing of the global order.
"What will happen to multilateral law? What we have built up is multilateral law. Will that law decay, diminish or can it be strengthened?" observed Ranil Wickremesinghe, Prime Minister of Sri Lanka.
China's territorial initiatives in the South China Sea, commented Lynn Kuok, Associate Fellow, International Institute for Strategic Studies
(IISS) in Singapore, will reveal what type of regulatory environment will prevail.
"I will be watching out for developments in the South China Sea. China is consolidating its control over the region and resources. This matters because it will change the balance of power in the region and whether the balance of power in the region is governed by might or right," noted Ms Kuok.
While there are clear regional fractures, Kang Kyung-Wha, Minister of Foreign Affairs of the Republic of Korea, pointed out that there are also moments of geopolitical alignment, such as current moves to advance denuclearisation efforts on the Korean Peninsula, which look much more promising than they did a year ago.
In addition to traditional geopolitical threats, such as maritime security and freedom of navigation and trade, the Japanese foreign minister added that one of his biggest geopolitical concerns is catastrophic weather changes on the back of climate change.
"The biggest concern is probably climate change, the sea water level is very high and we are getting stronger typhoons, stronger cyclones, and heavier rain.
"Once-in-a-hundred-years rain turns out to be once every two years. It is not just an environmental issue, but involves water supply management and food security. We really need to be serious about taking care of this issue," said Mr Kono on Japan's position.