There have been widespread reports of large scale corruption and theft at the Ministry of Transport and Civil Aviation and related agencies.
The corrupt practices have not only drawn the focus of the business community in the country but also that of the citizens. It must be stressed that corruption relating to tenders cannot continue in a political system which has promised good governance to its people.
Therefore, we are forced to reveal three serious corrupt tender deals carried out by the Ministry of Transport and Civil Aviation in recent times.
01. E-Motoring
Epic Lanka was set and chosen as the suitable company to hand over the tender for the Department of Motor Traffic's process to computerize all its data and reports along with implementing the E-Governance system. Epic Lanka had obtained 79.03 points in the tender process while Metropolitan, another bidder only received 70.07. The granting of the tender was set to be decided on a system of two envelopes mentioning the two stages of the project approved by the World Bank and the Asian Development bank with 80 per cent for Technical Evaluation and 20 per cent for Financial / Commercial Evaluation. Accordingly, Epic Lanka had more qualifications to obtain the tender than Metropolitan.

Tender Magic shown by the less qualified Metropolitan!

However, much to the amazement of everyone that was bidding, Metropolitan was able to secure the tender despite the price difference. While Epic had quoted Rs. 326 for one service transaction, Metropolitan had quoted only a paltry Rs. 187.97

One service transaction meant one single transaction that happens within the Department of Motor Traffic, such as registration of a vehicle, transfer or change of vehicle class. While a large number of such transactions happen within a year, prices also change accordingly annually.
Therefore, for an unspecified number of such services, it is not common to present prices up to the last cent while on observation it is clear that the prices have been quoted with prior knowledge of the quote which was to be presented by the competing company. If there is to be such prior knowledge, it is clear someone would have to reveal certain sensitive information. Therefore, the question remains as to who would have done this while the finger of suspicion directly points to the tender committee led by Thushara Suraweera.

However, Metropolitan and its heads Ivor Mahroof and Jagath Ravindra had used their influence by giving significant bribes to the TEC committee (Technical Evaluation Committee) heads and those involved in the tender process to obtain the decision in their favour. In the end, to everyone's shock and dismay, the tender was handed over to Metropolitan in the most corrupt and arbitrary manner.

2. Vehicle Number Plate Tender Scam !

The other tender fraud being discussed is the one committed by the Access Group and German Company UTSCH AG. The incident has caused other bidders to seek legal advice in order to sue the wrong doers. Therefore, we will refrain from mentioning details regarding the issue and instead bring to your attention, yet another tender fraud of the Ministry of Transport and Civil Aviation.

3. Electronic Driver's License

Sources say the newly proposed Electronic Driver's License Project has also been handed over to Metropolitan and Face Technologies in a highly questionable manner. They have revealed to us that plans have been hatched in the most devious ways to do so. It must also be noted that Metropolitan and its heads, Ivor Mahroof and Jagath Ravindra, are known to provide bribes by way of money, luxury gifts, foreign trips and even prostitutes in order to obtain tenders for their company.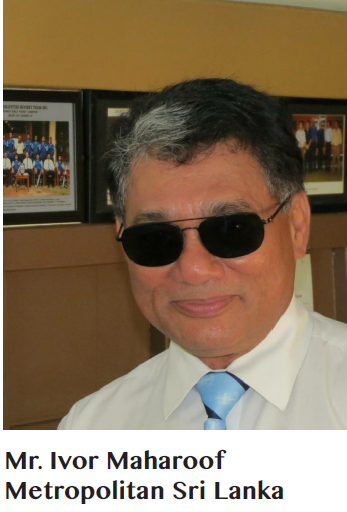 The duo are so corrupt that they are been known to make money illegally out of education projects meant to benefit school children in Sri Lanka. They have also been linked to several corrupt and fraudulent tenders at the Ministry and Department of Education. They are also said to be the criminal minds behind the deal for 200,000 tablet computers. Despite their disruptive and corrupt behaviour that has affected even the country's school children, it is remarkable and alarming to see government employees still continuing to support them.

Mastermind Udith Lokuarachchi!

The Ministry has already appointed a procurement committee and a TEC committee for this tender with the TEC committee being led by an individual identified as U.J Lokuarachchi. He is said to be the Head of Information Technology at the Airport & Aviation of Sri Lanka and had previously been employed at Metropolitan. Sources close to him, however, has identified him as the continuous mastermind behind the company's corrupt practices.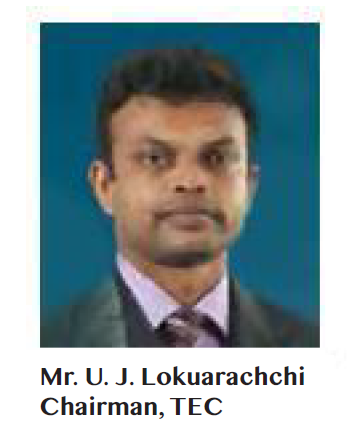 While taking bribes and various benefits from Metropolitan, Lokuarachchi is tasked with preparing TEC reports to ensure the tender goes to Metropolitan by sitting in as Chairman of various TEC committees in the government tender process.

Electronic Driver's License taken over by corrupt individuals!

Sources say U.J Lokuarachchi was instrumental in fraudulently handing over the E-driver's license project to Metropolitan and Face Technologies by making TEC reports to suit Metropolitan's tender.

He is said to have used flimsy excuses to eliminate internationally acclaimed companies that had far better qualifications than Metropolitan. Furthermore, he had called for companies that had inferior technology than Metropolitan on purpose to ensure that they looked better than its competitors.

12 Companies bid for the tender!

During inquiries made, it was found that 13 companies which had the necessary qualifications had presented themselves to the Procurement and TEC committee. While one was struck off for not adhering to tender procedures, it left 12 companies as the final recommendations.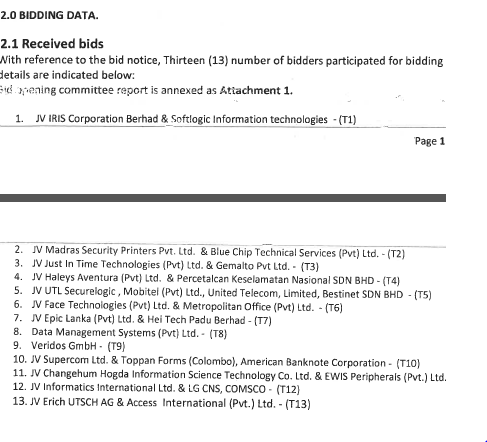 Companies with qualifications left behind!
The goons behind obtaining these tenders on behalf of Metropolitan and Face Technologies as mentioned before are the duo Ivor Mahroof and Jagath Ravindra. Known to take any risk or pay any price to obtain tenders in a corrupt way, in this instance, it is clear how they were able to get government officers to help them in their underhand work to ensure internationally recognized companies were dropped. The best evidence for this are the strange recommendations made by the officials making Metropolitan and Face Technologies the company chosen for the E-driving licence project.
Follow the link for evidence.
The Cover up!

However, it has also been revealed that Mahroof and Uditha who went to every extent to obtain the tender, also tried to cover up their corrupt practices during the deal by getting the committee to handover the tender to Metropolitan with Face Technologies but also deflecting any suspicions by allowing the three weakest companies to apply by mentioning that in the tender rules. But this fraud is blatantly visible despite their efforts.




Incredible TEC committee!
But the most laughable thing is the composition of the TEC committee. Other than its Chairman U. J Lokuarachchi, the only other member with a background in Information Technology (IT) is a university lecturer in the subject. Other than him, the qualifications and suitability of other committee members are highly questionable. It is also suspicious that the Commissioner for IT at the Department of Motor Traffic has not been included in this committee. Neither has a member from the Information and Communication Technology Agency (ICTA) attached to the Ministry of Telecommunications and Digital Infrastructure been included.

With the Driving licence being an important proof of identification as much as the NIC, it is confusing as to why those who not only have expertise in IT but also high security printing standards and international experience were not included. Bidding prices should have also been considered in this regard. It must be questioned whether this TEC committee had the necessary expertise to ascertain these details and information.


While Metropolitan with Face Technologies has been producing the driving licence issued by the DMT, however, it has to be noted that this tender is for an Electronic Driver's License and companies who not only have the facilities but also international experience had bid for this tender for competitive rates that cannot be matched by Metropolitan with Face Technologies.

Therefore, it is important to cancel this tender and call for an investigation in this regard immediately. At the same time, it must be questioned as to why the Minister of Transport Nimal Siripala De Silva, Commissioner General of Motor Traffic A.H.K.Jagath Chandrasiri, Secretary to the Ministry of Transport as well as other senior officials have kept mum with regard to these corrupt practices.

If the public is aware of such tender frauds, how the officials could deny any knowledge is a question that must be raised within the general public. For these officials, the only way to show their integrity is to stop the tender and ensure that a proper investigation is carried out. Failure to do so would only result in what the general public is already inclined to believe; that all of you are active stakeholders of a perpetuating vicious cycle of corruption.